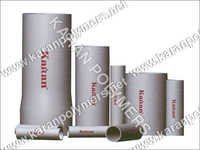 PVC Agricultural Pipes
Product Description
With the help of a dedicated workforce, we are able to manufacture, supply and export PVC Agricultural Pipes. These products are used in different agricultural applications for providing hygienic and clean water in cultivation and plantation fields. Owing to their dimensional stability and accurate performance, these products are very popular in the international market. Our clients can avail from us PVC Agricultural Pipes in varied specifications as per the requirements of the clients.

Electrical Properties
Dielectric Strength: 40kv/mm. Non-conductor should not be used for earthern purpose

Volume Resistivity: 10-5ohm/cm.
Thermal Properties
Softening point(Vicat): 176°F/80°C

Specific Heat: 0.25 cal/°C

Co-efficient of heat conductivity: 0.14 Kcal/kg/°C

ÂÂÂÂÂThermal conductivity: 4 X 10 cal / hr / cm2 / °C / cm

Co-efficient of liner expansion: 5 - 8.5 X 10-5mm/°C

Extension 6 metre length: 3.2 mm/10°C. (Approx.)
Dimension of uPVC pipes as per IS: 4985/2000 (in mm)
Outside Diameter

Tolerance on outside Diameter

Class - I 2.5 kgf/cm2


Class - II 4 Kgf/cm2

Class - III 6 Kgf/cm2 6


Class - IV 8 Kgf/cm2

Class - V 10 Kgf/cm2

Class - VI 12.5 Kgf/cm2

Min.

Max.

Min.

Max.

Min.

Max.

Min.

Max.

Min.

Max.

Min.

Max.

40

+0.3

-

-

-

-

1.4

1.8

1.8

2.2

2.2

2.7

2.7

3.3

50

+0.3

-

-

-

-

1.7

2.1

2.3

2.8

2.8

3.3

3.3

4.0

63

+0.3

-

-

1.5

1.9

2.2

2.7

2.8

3.3

3.3

4.1

4.1

5.0

75

+0.3
-

-

1.8

2.2

2.6

3.1

3.4

4.0

4.0

4.9

4.9

5.9

90

+0.3
1.3

1.7

2.1

2.6

3.1

3.7

4.0

4.6

4.6

5.7

5.7

7.1

110

+0.4

1.6

2.0

2.5

3.0

3.7

4.3

4.9

5.6

5.6

7.1

7.1

8.7

125

+0.4
1.8

2.2

2.9

3.4

4.3

5.0

5.6

6.4

6.4

8.0

8.0

9.8

140

+0.5
2.0

2.4

3.2

3.8

4.8

5.5

6.3

7.3

7.3

8.9

8.9

11.0

160

+0.5
2.3

2.8

3.7

4.3

5.4

6.2

7.2

8.3

8.3

10.5

10.2

12.6

180

+0.6
2.6

3.1

4.2

4.9

6.1

7.1

8.0

9.2

9.2

11.4

11.4

14.1

200

+0.6

2.9

3.4

4.6

5.3

6.8

7.9

8.9

10.3

10.3

12.7

12.7

15.7

225

+0.7

3.3

3.9

5.2

6.0

7.6

8.8

10.0

11.5

11.5

14.3

14.3

17.6

250

+0.8

3.6

4.2

5.7

6.5

8.5

9.8

11.2

12.9

12.9

15.9

15.9

19.6

280

+0.9

4.1

4.8

6.4

7.4

9.5

11.0

12.5

14.4

14.4

17.8

17.8

21.9

315

+1.0

4.6

5.3

7.2

8.3

10.7

12.4

14.0

16.1

16.1

19.9

19.9

24.7

Trade Information
Cash in Advance (CID)

Days
Yes

Free samples available with shipping and taxes paid by the buyer
Asia, Australia, Central America, North America, South America, Eastern Europe, Western Europe, Middle East, Africa

East India
Contact Us
56-E, Hemanta Basu Sarani, Stephen House, 4th Floor, Suite No. 57-A,B,C, Kolkata, West Bengal, 700001, India
Phone :91-33-22623124/3125/22429745/22431498